Some time ago we released "Filters" feature to provide additional filtering for queried tweets. This feature became extremely popular, so we kept working on Filters and from now on there are also Filters for Lists!
Filters for Lists work exactly the same as for regular #hashtags and @mentions. Let's quickly go through the filter setting-up process for our previously created @UseCase_Test Team. For the purpose of this example, we created public list on Twitter called "Example". This list includes only one member - @RoundTeam

Now we need to login to RoundTeam to set up retweets. We decided to retweet all tweets from our list. It means that configuration will look like the following: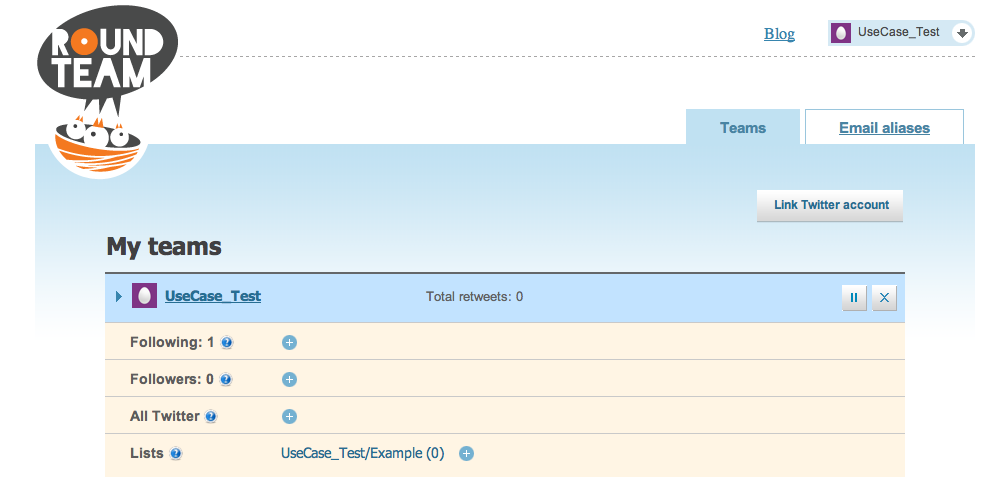 More about retweeting from Lists settings here.
Now, when you move cursor over this retweet item, you will see the Filter icon:

Click on it, and Filter settings window will appear. Each List may have up to 5 different filters. One filter per row. Here is how it looks for our Example List: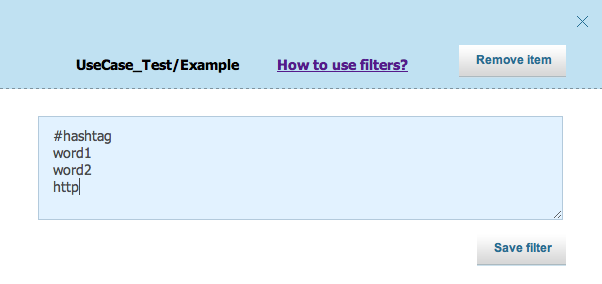 And here is what we generally got for @UseCase_Test Team:

First, we added #hashtag filter, which means that all tweets from our List containing this hashtag won't be retweeted by @UseCase_Test Team.
Second, we added word1 and word2 filters. You can define any keywords there. One of the use cases is to keep your retweets clear from undesirable comments, obscene words etc. Remember one filter (keyword) per line.
Third, we added http filter - very popular in RoundTeam today. This keyword will help you to filter out tweets containing URLs (for example, if you see most of them are spam links).
And a few words about our "special filter" category. We have three special filters for Lists now:
<no_conversations> filter will prevent all Tweets, which start from user @mention, from being retweeted
<exact_match> - naturally, it will work only if you defined retweets from List by some #hashtag/@mention/keyword. For example, UseCase_Test/Example/#hashtag
<no_retweets> is our new special filter, which works only with Lists. It basically says RoundTeam to retweet only updates posted by List members, but not retweets they made.
We keep collecting new special filter ideas! If you have a strong feeling that you miss some filter functionality - please drop us a line on [email protected] or leave your comment here!
Waiting for your feedback about our work!
Truly yours,
RoundTeam